Beauty Rituals
Look after your body and mind during times of self isolation - You can boost your immune system and your mood through many methods from eating well and staying hydrated to taking the time to look after your skin. 
Whilst I cannot advise on nutrition here is an insight into my body care routine...
In some cultures it is believed that cleansing your feet helps to get rid of all the negative energy that you have been carrying around with you, allowing you can accept all the positive energy that you are about to carry out. I have taken great care of my feet from a very young age and this starts with scrubbing my feet and removing any dry skin. I love my FOOT FILE. Use it once a week on dry skin, filing towards the midline of the foot, make sure to wash after with a damp nail brush.
If you have dirt under the toenails soak your feet (epsom salts are perfect) and towel dry before using my glass pushy from my RUBY HAMMER NAIL KIT to remove it. 
Dry brushing not only exfoliates the skin but stimulates the lymphatic system. Just a couple of minutes a day helps to alleviate fluid retention, metabolise toxins and softens your skin. It is also great for stopping ingrown hairs. Start at your feet and brush upwards in the direction of your heart working over your entire body. Quick flicks are better than long strokes and really help to perk you up (a brilliant tip from the fabulous Kate Shapland the founder of LEGOLOGY). I have several brushes but favour my AROMATHERAPY ASSOCIATES POLISHING BODY BRUSH or I use a dry scrub such as MIO DOUBLE BUFF DUAL ACTION ENZYME EXFOLIATOR. It may feel odd to use a scrub on dry skin at first but the effect of the mixture of enzymes and pumice give a silky smooth feeling to the skin.
When working on your skin it is easy to forget your scalp. AMELIORATE the UK's first dermatological skincare brand have developed a range of scalp care products to allow you to gently exfoliate and cleanse reducing the appearance of a flaky, itchy, dry scalp. Containing Lactic Acid and AHAs their CLARIFYING SCALP EXFOLIANT gently removes dead cells.
My final stage pre-showering is to apply PHILIP KINGSLEYS ELASTICIZER a pre shampoo hair mask. Apply liberally to damp hair and cover with a shower cap for 20 minutes. The mask makes my thinning hair stronger, more hydrated and gives it back a beautiful bounce that it can sometimes lack. If it was good enough for Audrey Hepburn – it is good enough for me!  
Bath or shower? The age-old debate of bath and shower can be decided by whether you are dirty or sweaty from being outdoor and exercising or if you are just washing off from a regular day. The benefit of a bath is that if you have a skin condition you can easily apply ingredients to your skin through the water which can be very soothing however showers are more hygienic. For a special treat you can always shower first and then relax and unwind in a bath once already clean.
I tend to set my shower temperature to lukewarm whilst cleansing and then finish with a cold rinse. There are numerous benefits to a cold shower from reducing stress levels (look up hardening) to boosting your immune system by increasing the number of white blood cells in your body – It takes some getting used to though!
Once out of the shower pat your skin dry with a fresh clean towel and apply a rich cream all over. I love KIEHLS CRÈME DE CORPS as a great everyday non-greasy hydrating body butter or WELEDA SKIN FOOD BODY BUTTER for when my skin is feeling particularly dry. For a real treat AUGUSTINUS BADER THE BODY CREAM intensely hydrates and leaves skin feeling supple and looking more toned.
If you are isolating let you hair air dry – it is great to give it a break from styling.
Don't forget to wash your hands and sending everyone positive wishes. xx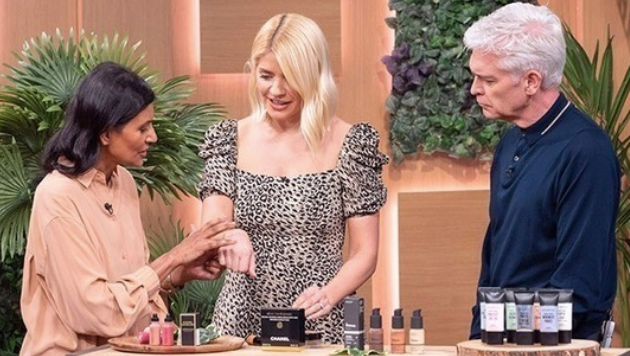 THIS MORNING: MY BEAUTY MUST HAVES
I loved being back on This Morning last week… Though I'm now coveting my brows from twenty years ago. For those asking these are my beauty must haves… (I am not paid or sponsored to mention any of ...
Read more
Whether you are a makeup artist, a beauty lover or new to beauty there are lots of questions that you should think about before buying brushes: ♥️ What do I want to use the brush for? Is it for c...
Read more