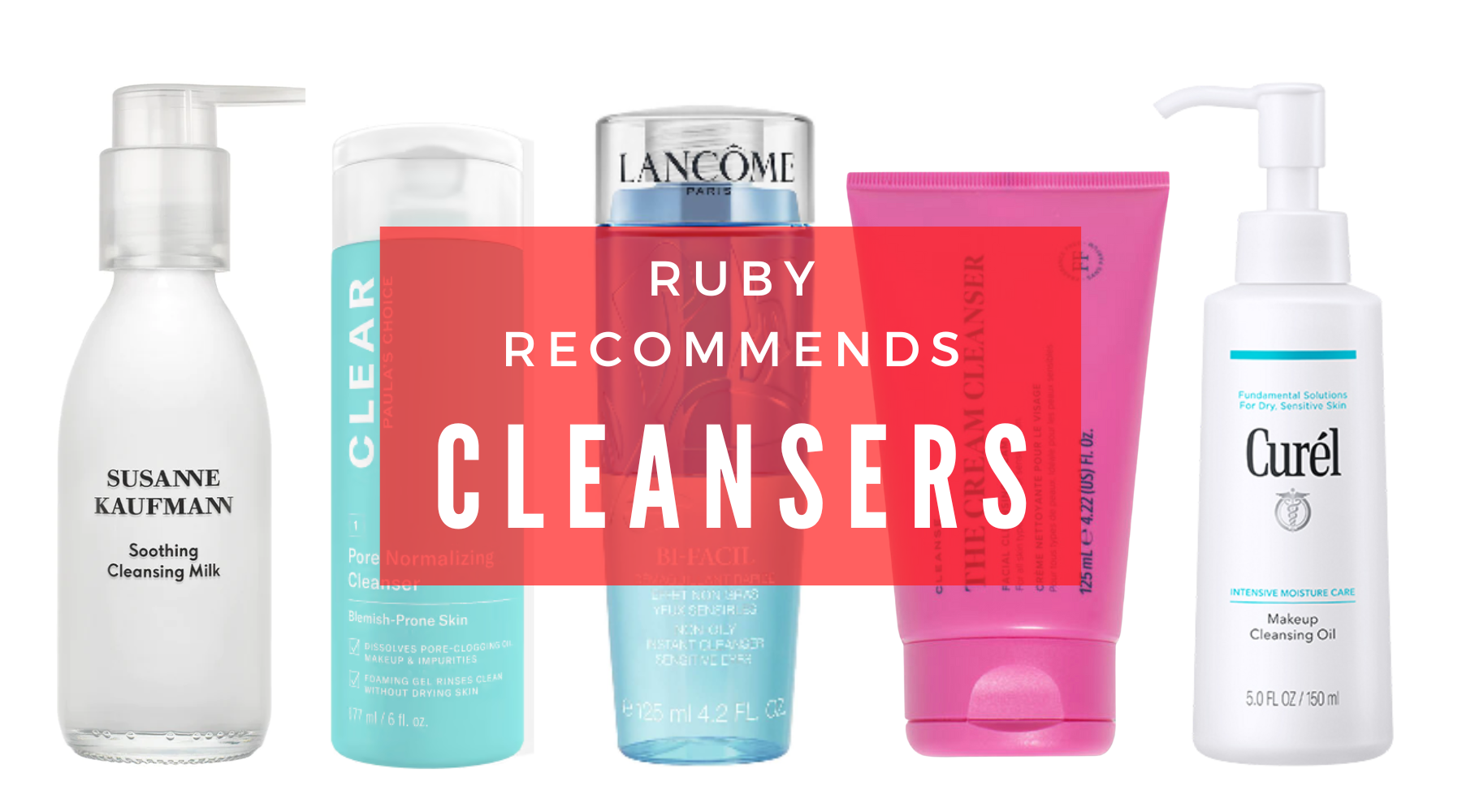 RUBY RECOMMENDS | CLEANSERS
If you don't enjoy your routine, change it! Cleansing shouldn't feel like a chore, if it does it is likely that you haven't found the right cleanser for you. 
There are so many formulations that it can be easy to get stuck in a rut  - do you need gel, foaming, cream, milk, soap, oil? Should you be cleansing or double cleansing? Do you rinse with water? A flannel? A muslin? it can all get too much.
The basic idea of cleansing is to clean your face in the gentlest way possible that removes everything from your face, without stripping away natural oils or damaging your skins barrier. Use fresh warm water and a clean flannel (or muslin) and select the right formulation for you. 
EYE MAKEUP
My personal recommendation is to always remove (stubborn) eye makeup first with a bi-phasic remover designed to remove long-lasting mascara and eyeliner. Lancôme Bi-Facil Yeux Eye Makeup Remover is a firm favourite.
MORNING CLEANSE
You should be cleansing both in the morning and evening, however in the morning you can use a smaller amount of cleanser and don't need to double cleanse (save this for when you are taking the day off). Remove the overnight shedding with a clean, warm flannel and a light cleanser. Milks, balms and gels are great for a simple freshen up of the skin.
EVENING CLEANSE
Double cleansing has grown in popularity in recent years, the first cleanse removing  makeup, sunscreen and debris from the day, followed by a gently cleanse to clean your skin.
TYPES OF CLEANSER
MILK | Hydrating and softening, milk formulas are gentle and effective, breaking down surface dirt and grime which can be removed easily with a flannel.
Susanne Kaufmann's Soothing Cleansing Milk is a blend of chamomile, St John's wort and sage, designed to dissolve dirt without stressing your skin out. A great first cleanse, that makes cleansing feel like a luxury.
BALM | A great option to remove dirt, makeup, oil and sunscreen. Balms can be hydrating as well as cleansing, making them great for all skin types and especially dry or sensitive skin.
CREAM | As they sound cream cleansers are exactly that, creamy in texture. Usually at the gentler end of the spectrum with hydrating ingredients. Great for a second cleanse or morning cleanse.
The Cream Cleanser, Skin Rocks by Caroline Hirons gently cleanses the skin, leaving it feeling clean without leaving it feeling dry. 
GEL | Clear and gel like, these are usually great for a deeper cleanse. Great for clogged pores and acne prone skin.
Paula's Choice Clear Cleanser is perfect for easily congested skin, it removes pore-clogging debris without leaving your skin feeling stripped or dry.
OIL | Oils gently bond to the oils and dirt on your skin, removing them in addition to being great for waterproof makeup without a drying effect. Great for both dry and oily skins. 
Curél Cleansing Oil melts away the day without the need for rubbing and scrubbing. The light oil turns into a milky texture when mixed with water and easily removes makeup including mascara.
FOAMING | Foaming cleanser are great for oily and acne prone skin as they help eliminate excess oils, however they can be drying and strip your skin's natural oils. 
CeraVe Foaming Cleanser lathers to a light froth, containing hyaluronic acid, niacinamide and ceramides it is a great addition to an acne prone routine.
MICELLAR WATER | Micellar water gets its names as they feature 'micelles', tiny oil molecules suspended in water. These are great for removing dirt , makeup and oil from the skin.
Bioderma Cleansing Micellar Water is a staple in my kit, it removes makeup and dirt easily without aggravating skin (perfect for quick changes on set) and no need to rinse. Just swipe off and you are done.