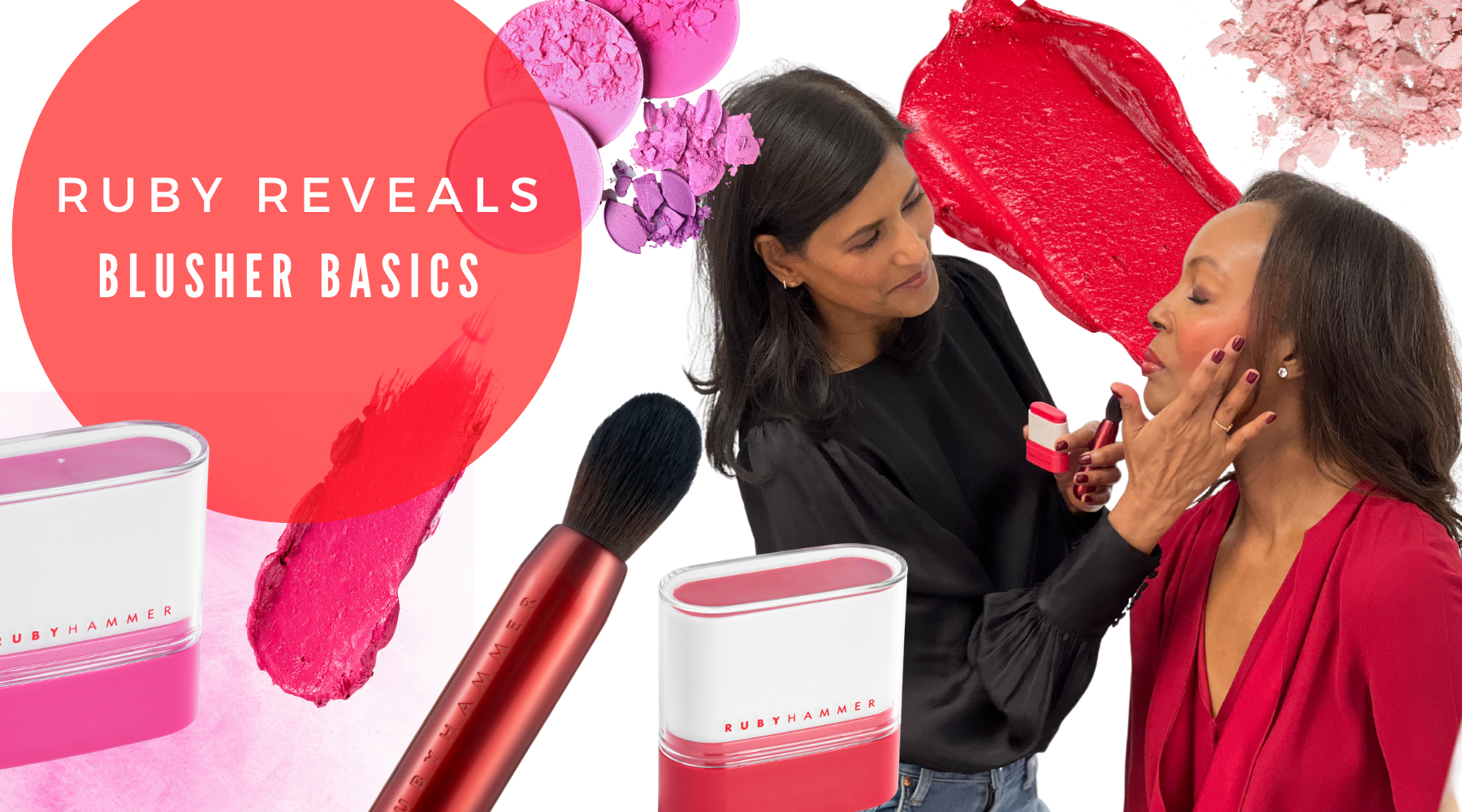 RUBY REVEALS | BLUSHER BASICS
A flush of colour really does boost the face. It instantly refreshes your complexion, but is often forgotten in favour of eyes and lips. 
FORMULATION
Picking the right formula for you doesn't have to be complicated, blushers come in powders, liquids, creams, gels and tints. It's down to what you prefer to work with and the desired end effect. Would you like to look matte, dewy, a light sheen? Natural or a bright pop of colour?  
For my Cheek Colours I have opted for a cream, skincare based formulation which glides on like a second skin. Buildable and lightweight it is perfect for most skin types.
For a matte finish opt for a powder formulation, the new generation of powders have hydrating properties to stop them looking dry.
PLACEMENT
Never one to play by the rules I prefer to get to know the face in total, rather than just look at face shape. You want to learn where the apples of your cheeks and your cheekbones are.
Cheekbones - Looking into a mirror, take your middle finger and put it on the top of the cheekbone and follow it dow to where it finishes.
Apples - The apples of the cheeks are the round fleshiest part of the cheek, if you look into a mirror and smile, they are the part that protrudes.
For a natural healthy flush of colour, you want to concentrate on the area where you naturally blush (the apples) and work colour upwards and outwards. If you are looking to create extra definition head over to my mini masterclass on contouring.
TECHNIQUE
The most common mistake with cheek colour is to apply it too heavily, start off with a small brush and shimmy it across the product picking up enough for a light veil and build up your colour. Remember where your brush first hits your face, is where most of the colour will be dispensed to apply to the apples of the cheek first before blending up and out. The same rules apply if using your fingers to apply.
COLOUR
Long gone are the days of you must match your blush to your lipstick, any colour goes! You just have to have the confidence to pull it off.
Red - Bold and beautiful. Don't let the colour intimidate you, it is the easiest shade to wear mimicking the skins natural flush. 
Pink - Fuchsia pink provides a pop of vibrant colour to paler skin tones for a fresh look. On olive and darker skin tones you can build up the colour for a stunning contrast making the cheeks really pop.
Orange (Coral) - Add warmth with orangey coral shades, similar to a blush and bronze in one, it looks great on olive skin tones.
Nude / Highlight shades - Nude champagne colours look great on all skin tones to highlight all the areas light naturally hits for a lit from within glow.