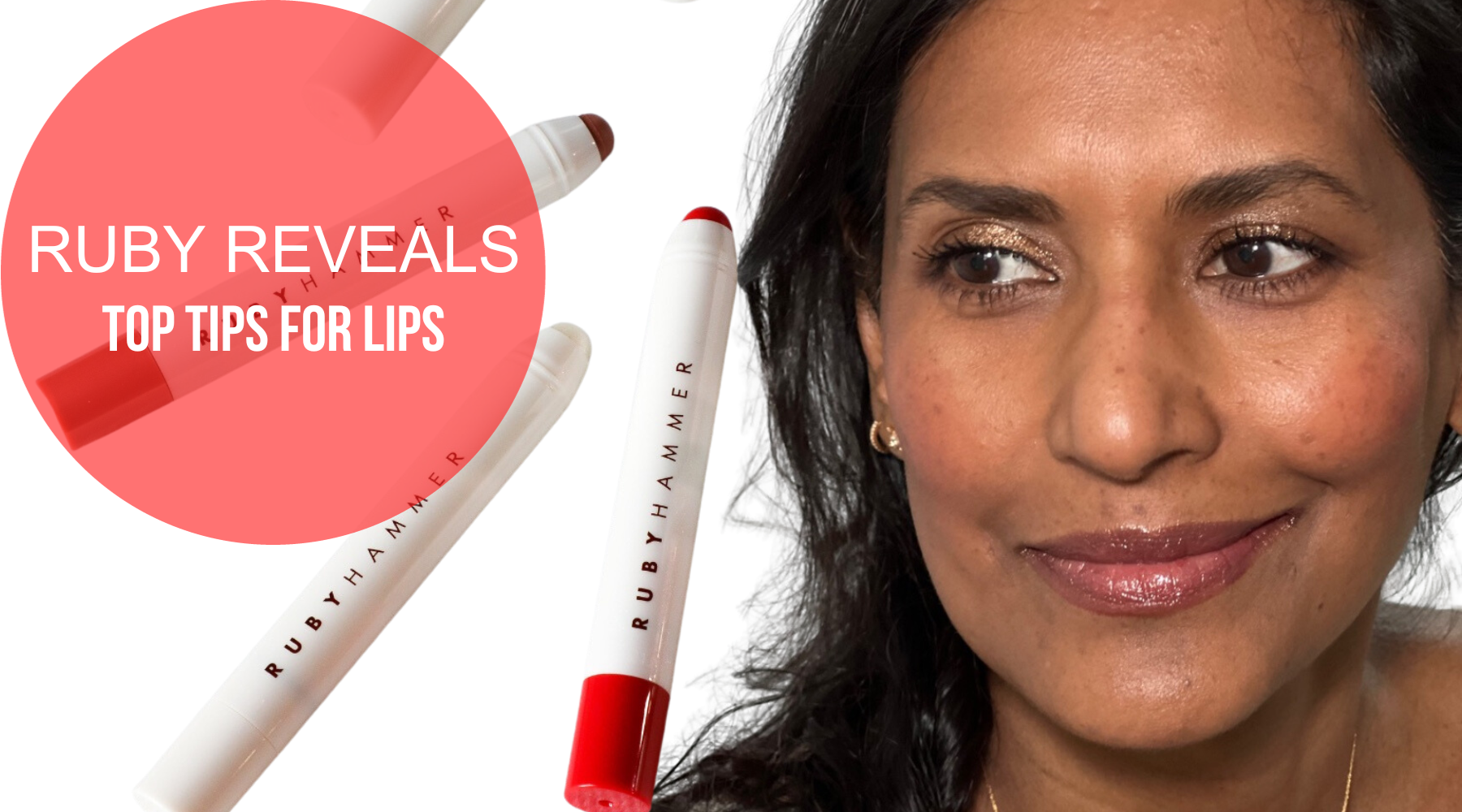 RUBY REVEALS | TOP TIPS FOR LIPS THIS AUTUMN
LIP CARE
As the weather becomes cooler and drier, our lips tend to require some extra TLC to stay soft, smooth and hydrated. Like your skin, lips need to be in top condition before you apply any product. You don't want any dry, cracked skin or flaky bits. It's just as important to keep your lips well-nourished and moisturised as it is the rest of your face.
Exfoliation is key: If your lips are feeling a little dry, start by exfoliating. Using a lip scrub or even a homemade mixture of sugar and honey, gently rub against the lips to remove any dead skin cells, creating a soft, smooth base for any product.
Lip balm: The lips best friend. I carry a lip balm with me wherever I go and apply throughout the day whenever my lips are feeling a little dry. Whether you prefer a gloss or a lipstick, no product is going to look right if your lips are dry. If you're looking to cut down on the products you carry around with you, my Lip Serum Balms for the perfect combination of colour and care. 
Protection: The same way we layer up to protect ourselves from the elements, we should do the same for our skin and lips. Even in the colder months, it's important to add a layer of SPF to protect ourselves from UV rays. 
Stay hydrated: Don't forget to drink plenty of water. Staying hydrated from the inside out is essential for maintaining soft, supple lips.
LIP COLOUR
A change in season is also a great time to switch up your makeup routine, and try out some new shades. It can be hard playing with colour, especially if you're used to always wearing the same tones/colour family. I suggest trying something from each colour family (red, pink, orange, purple, brown and beige) and finding what works for you. 
Top-tip: Take some q-tips with you next time you're shopping for lipstick. Rather than buying a load of products that might not suit you, roll the q-tip around the bullet of the lipstick allowing you to pick up a good amount of colour and test it on your lips/back of your hand first. 
I am particularly liking the trend towards using Lip Pencils again, both Monika Blunder and Jones Road have new pencils in an excellent choice of shades. 
LIP TEXTURES
From matte to high gloss, there are a huge array of lip products available all in different textures. For a bold statement opt for a vibrant matte shade, bursting with pigment. Thankfully formulations have moved on leaps and bounds over the last decade and the latest releases are hydrating as well as mattifying.
If you like high shine, you will not be disappointed with the vinyl glosses that have been launched recently. Go full Y2K with Lancome Juicy Tubes or opt for a Victoria Beckham Posh Gloss for a gorgeous range of shades for the perect high shine pout. 
Lip Serums and Oils are my favourite take on a lightly glossed lips seen on the catwalks, infusing lips with a sheer wash of colour and nutrient rich formulations for luscious lips.
MIX & MATCH
I'm a strong believer that anyone can wear any colour, it's just a matter of finding the right tone for you. For example, when I wear pale orange it completely washes me out, but if I mix that orange with a brown - it looks great. 
A great way to find your perfect shade is to blend different colours/products together. Because of the nature of the Lip Serum Balms - very creamy and lightweight - they are perfect for blending and colour-mixing. It's all in the trial and error!