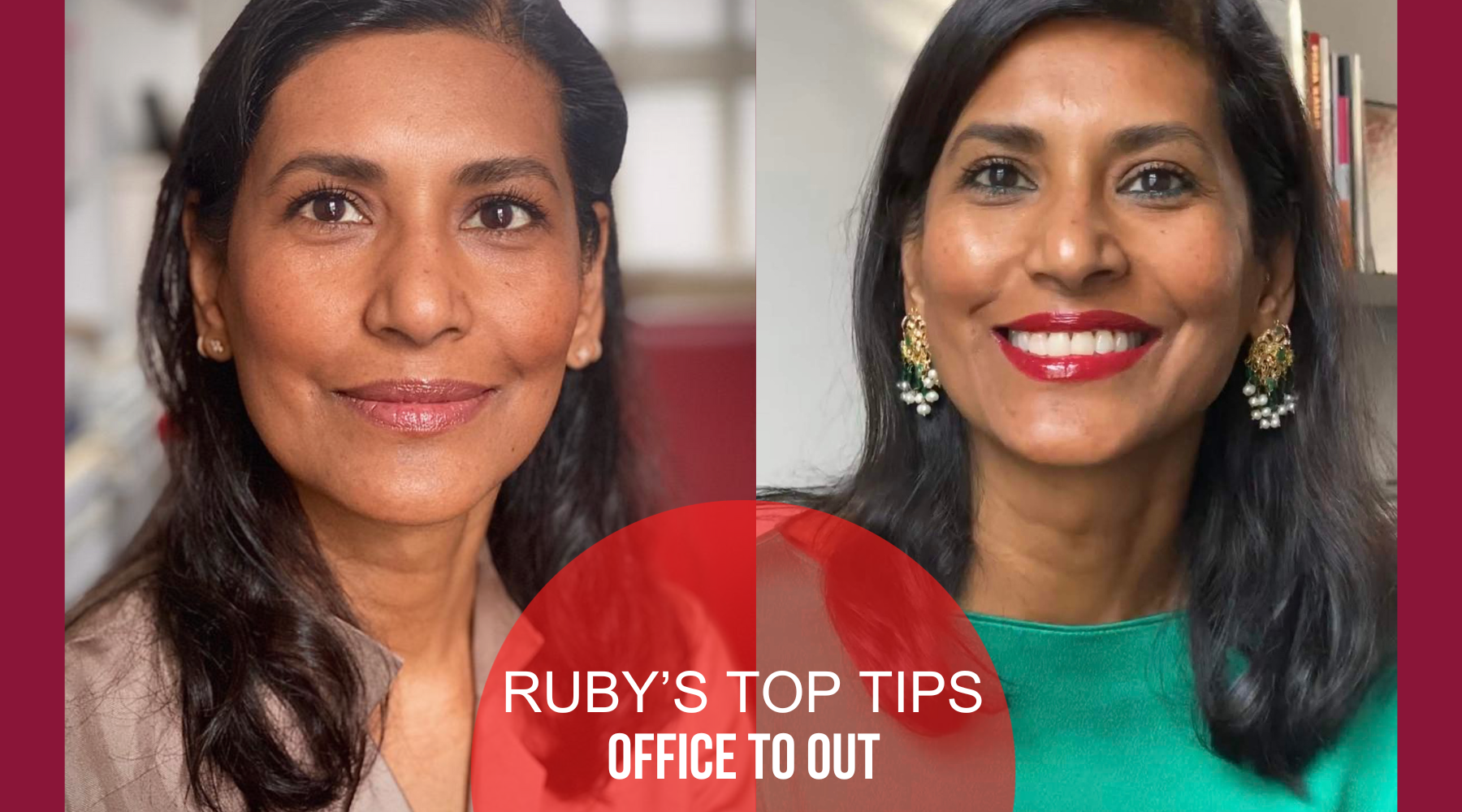 RUBY REVEALS: TOP TIPS TO GO FROM OFFICE TO OUT
Creating a makeup look that lasts from morning until night requires proper skin prep and strategic application. It's no secret that keeping on top of your regular skincare is the trick behind that all-year glow, but what else can we do to create a long-lasting makeup look that stays fresh from desk till dawn? 
START THE DAY RIGHT 
SKINCARE Start with clean, moisturised skin. If your skin is clean and hydrated, your make up will look it's best. Finding the right cleanser, toner & moisturiser for your skin type is crucial for this stage. And if you know you want your makeup to last all day and night, it's also the time to use a primer. 
BASE You don't want to use anything too heavy, that could slide off the face throughout the day. Opt for a lightweight, buildable foundation and apply using a beauty blender to areas of the face you feeling need evening out. Using a small Precision Brush, strategically apply concealer to any blemishes or discolouration, blending in with the tips of your fingers. 
FACE If you are a fan of bronzer now is the time to add a dusting to the chin, cheek, nose and forehead. Placing where the sunlight would naturally hit the skin for the most natural look. Liven up your complexions with a pop of Cheek Colour. Start on the apple of cheeks, working the colour outwards and upwards. Remember, it's always best to start with less and gradually build up the colour. 
EYEBROWS Using a Spoolie, or a clear eyebrow gel, gently brush up the brows before filling in any gaps with a brow powder. This is one of the quickest tricks to opening up the face. In the theatre brows are often brushed down to play a villian or elderly character, whereas they are brushed up to portray you... opening up the lid area for the illusion of larger eyes.
EYES Start the day with a simple, toned down eye look. A brush of nude over the eyelid, and curled lashes prior to mascara to really open up the eyes. Starting with something simple makes it easier to add too as you go from day to evening. 
LIPS Keep lips hydrated all day long with a Lip Serum Balm, the perfect prep for a bolder colour in the evening. 
REVAMP YOUR LOOK 
When the clock strikes 5pm, whether you're heading for work drinks or date night, it's nice to freshen up your look taking it from daytime to evening glam! 
REPAIR & REFRESH Take 30 seconds to look at your face and see which areas may have budged throughout the day, or the areas that need a little touch up. Use blotting paper or a small amount of translucent powder to mask any shine, and tidy up your base. I keep a spare clean buffing brush in my bag to re-blend where required it looks much cleaner than simply applying extra product on top.
STAND OUT The darker it gets, the less your features naturally stand out, as there is less light being thrown towards your face. This allows you to go bolder with colour. I like to brighten my blush with an additional swipe of cheek colour and add highlighter for definition and contrast. 
ACCENTUATE THE EYES To help take your look from day to night, it's time to add a little drama on the lids. Using a Pencil or Liquid liner, gently line the upper and lower lash line to create extra definition. A quick trick for a subtle smoky eye is to smudge the pencil upwards, this looks great no matter which shade of eyeliner you choose. If you're feeling slightly more daring, add a bold colour shadow or some glitter to your look. Don't forget to add an extra layer of mascara.
LIPS Nothing beats a bold lip on a night out. Make sure to line your lips and blot for lipstick that lasts as long as you do!